Revelation 12:11
March 2020,
Dear Friends,
I had an audience of an eleven-foot alligator on the 18th fairway at Mission Hills for my second shot!
I actually saw three gators that day, but this was the granddaddy and was worth the risk and earned the picture.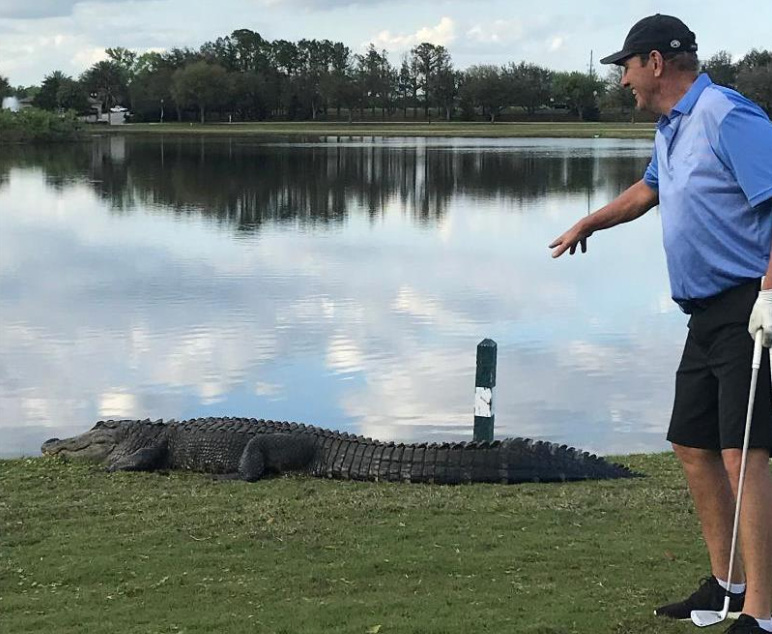 But the joy of the day was sharing Christ with a group of twelve Canadians after our round together.
Questions included, "Who wrote the Bible?"; "How many ways to heaven?"; "What is the difference between the Koran and the Bible?"; "Can you be sure about going to heaven?"
The privilege of playing with groups where there are no Christ followers gets my adrenaline pumping! Spending an hour answering questions and sharing Jesus is well worth a four-hour golf game that I enjoy anyways!
It's a proverbial win-win!
Besides the sunny weather, golf, and alligators, Florida has many other bonuses for my joy of sharing the Gospel.
Every day of the year is a possible sports ministry opportunity because so many sports activities are year-round!
One other bonus to living in this area is that Orlando draws groups of snowbirds from all over the country. It's Disney and other park's attractions also draw foreigners (my favorites!) from all around the world.
Besides the Canadians, I have Chinese, Korean, Japanese, Australians, Europeans and of course my ultimate favorite… lots of Filipinos… to talk to!
The Lord has brought the world to me! I still get tickled by the look on a foreigners' face when I greet them in their language and they smile, quickly shake hands, common ground is found and walls come down!
This week I will be speaking to 50 high school and college men and women from Tennessee.
They are not foreigners but there will be two different and distinctive uses of the English language (and laughter) when my much-traveled accent collides with the unique accent of the young people of the Volunteer State!
Hopefully and prayerfully
Hopefully and prayerfully, the juggling and spinning of the basketballs followed by the unusual experiences and stories I have had serving the Lord will build a common ground that communicates the powerful words and message of a Hebrew speaking Savior from Israel.
Jesus is for everyone, from everyplace, in any language, at any age, and transforms and redeems lives.
Do it again, Lord!
Because of Christ,
Tom Randall
"But you will receive power when the Holy Spirit has come upon you, and you will be my witnesses in Jerusalem and in all Judea and Samaria, and to the end of the earth." Acts 1:8
"And it shall come to pass that everyone who calls upon the name of the Lord shall be saved." Acts 2:21